In 1901, William Harley designed a small engine to be used in pedal style bicycle frames. Over the next couple of years, Harley and his best friend Arthur Davidson and his brother  created a powered bicycle in 1903 using a northside Milwaukee machine shop. After a couple years of trial and error, Harley and Davidson began offering their Harley-Davidson engines to the do-it-yourself trade. The following April, a very limited number of motorcycles started production.
In 1906 Harley and the Davidson brothers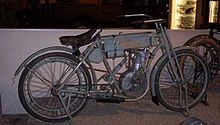 constructed their first factory on Chestnut St., which to this day is still the Harley Davidson headquarters. Following the completion of their factory, Harley-Davidson manufactured 150 motorcycles in 1907, shown in photo.
As one of the only manufacturers to outlive World War I, The Great Depression, and World War II, Harley Davidson expanded to overseas manufacturing in many countries. Throughout the progress in their company, they also had many downfalls and flaws with products, some of which led to deaths of public authorities.
Although Harley Davidson faced their ups and downs, the company has came lengths beyond recognition leading to the phenomenal Harley Davidson cruisers that we see today. Because of the outstanding progress that Harley and the Davidson family achieved, they have been recognized in the Labor Hall of Fame, and their brilliant idea has led to the top motorcycle company around the world.