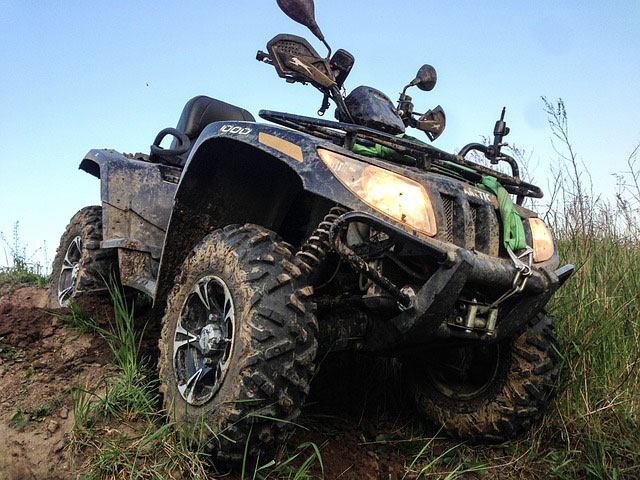 Living in Michigan, one of the most popular past times on the weekend during spring and summer is to go camping or head up north. There are very few Michigan resident that have not camped or spent a weekend in the woods. One of the best way to ride the trails and explore the woods is by riding your ATV. An ATV is short for All-Terrain Vehicle, sometimes also known as four wheelers or quad bikes.  New or used a ATV can be a lot of fun on those warm summer weekends.
Benefits of Used ATVs in Michigan
Off road excursions can be a major benefit of owning a ATV, there is not much terrain a ATV can't make it through. Thick mud or grassy hills, a ATV churns out the miles all while having some fun. Another great benefit of owning a ATV is the overall flexibility, sure you can tear up some back woods trails but a ATV can handle any surface including concrete, which means if you need to run to the corner store, just hop on your ATV. Another great benefit is the overall usefulness of a ATV. ATv can be used for work as well as play, need to move some heavy contents, using a ATV makes the job easier.
Knowing how useful a ATV can be, you may be wondering what are some top brands of ATV, here is a list of some of the top ATV brands:
Honda
Artic Cat
Polaris
Kawasaki
Yamaha
Kazuma USA
Eton
Suzuki
Bombardier
Alpha Sports
You may already own a ATV, and you would like to purchase a new one but need to sell your old one. That is where Sell Us Your Bike comes in, not only are we one of the top motorcycle buyers, but we also buy used ATVs from all over Michigan. At Sell Us Your Bike, the process is simple and hassle free. Fill out our free quote form or give us a call at 1-800-963-9216 we will agree on a price and issue you a check and arrange pick up of the ATV, just that simple!
Enjoy the outdoors with a new or used ATV, and explore all the trails and woods Michigan has to offer!
Posted In: ATV, Michigan, Used ATV
Tags: ATV, michigan atv, Used ATV