Polaris Sportsman 500 Series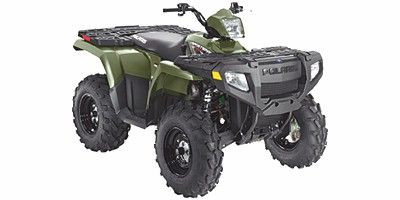 One of the best middleweight 4×4 ATVs on the used market is the Polaris Sportsman, H.O.,  500  series The Polaris Sportsman 500 H.O. for example has an independent suspension and responsive motor. Polaris lowered the price and kept it in line after the introduction of the 550. A used one is still worth something because it's still a current model.
In 2009 Polaris introduced the 550 EPS with a new engine and new chassis, the engine had more power and fuel injection. But it also kept the 500 part of the line.  Polaris has tried to keep their new lines' price down, so by doing so the used market keeps its price down as well. The Polaris 570 is a bit heavier with more horsepower and is a little louder. Newer models fetch a really good price on the used market.
Price of New Polaris 4×4
A 2009 Polaris Sportsman 500 H.O. on the used market today you could get around $1400 still, if in decent shape. Considering the new models are retailed at $6999, that is not a bad price. Of course, if you are looking to sell your Polaris Sportsman 500 H.O., 550, or 570, then Sell Us Your Bike, is the right place for you to sell it!
We offer good money for your used Polaris Sportsman, and if your ATV is newer than 2010, we are even more interested. The newer ATV model years are really in demand right now. In fact, if your vehicle is less than 5 years old, you won't believe what you can get!
Right now it's summer in the midwest and things are heating up (both in temperature and prices). Don't you be left out in the cold!  Start the process to sell 4X4 / ATV today by using our free no-hassle quote form or give us a call today at 1-800-963-9216. Polaris Sportsman isn't the only type of ATV we buy. Other manufacturers are in demand as well, so check out what we buy and get the most money for your ATV today!
Edited from July 2013