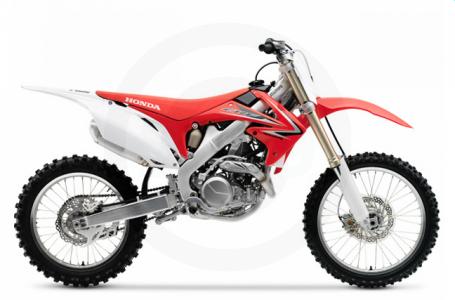 Type: Dirt Bike
Size: Small to Midrange
Engine type: liquid-cooled single-cylinder four stroke engine
CCS: 449 CC
MPG: 50-60
Fuel Capacity: 1.7 gallons
Transmission: close-ratio five-speed
The CRF line launched by Honda back in 2000 was created in order to put the Honda name behind a dirt bike that could handle every thing that nature could throw at it. Since then the CRF 450 was launched in 2004, and since its launch has always been a top seller in it's class. Don't take our word for it though, the numbers don't lie. The Honda CRF 450R has been voted best Motorcrosser by CycleWorld (for a record setting) 8 consecutive years in a row (2001-2009).
The Honda CRF450R has always been out in front of the dirt bike pack. But now it's WAY out in front. We took the best MX bike in the class for six years running and made it better in every way. From steering, handling and power, this bike has brought it all in a neat little Honda package. And with a name like Honda behind it, you know they have the legacy of reliable and quality bikes
With features like our exclusive Honda Progressive Steering Damper (HPSD) and the revolutionary all-new batteryless fuel-injection system, the 2009 CRF450R is pure Honda, and without a doubt the best open-class motocross bike ever.
We are always on the look out for for Honda CRF 450R, and if your selling, we're buying! We want to buy your used CRF from you, simply fill out the form below and we will give you a quote for it. No hassle, no run around, just quick and easy quote.
Get A Quote For Your Vehicle
We Want to Buy!