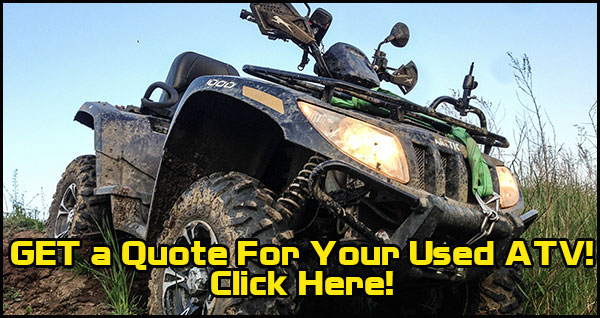 Best Way To Sell A Used ATV in Ohio and Indiana
Hello Ohio and Indiana! If you are in the market of selling your ATV, we are here to help! We've compiled a list of different ways you can sell your ATV with the benefits and drawbacks of each.
Local newspaper ads- Locals selling to locals the old fashioned way. It's cheap to list your ad, and it's your neighbors who will be answering the ad. If you can fit a full description in that tiny little space, good luck to you!
Used ATV dealers- So you like to support the local. We understand, sometimes talking to a professional who can take care of a lot of the details sounds great. But the hustle, the run around, and getting undercut the price for your ATV. Such a pain
Craigslist- Yes the go-to, craigslist. It's free, it's relatively local, and you get to name your price. You list your ATV, name a price, post some pictures and then wait for the crazy to start. Planning meet ups, talks about the ATV's history, chats about how they are planning on picking it up, and hoping the check clears.
Sometimes though selling your ATV is just too much of a hassle. Either you don't want to have to talk to random people, deal with transporting it, or trusting that people will actually pay you. We know, we've been there. That's why we've made such an effort to make the process easy and simple. We here at SellUsYourBike.com are in the market for used ATVs, and we would like to buy yours today! All you have to do is fill out our free online form, and then let us take that old ATV off your hands.
Let us handle all the nitty gritty details. We will pick it up, transport it, and find it a forever home. We've been in the business long enough to know how to make this process quick and easy, so you can rest easy knowing you're in good hands.
Currently we are in the market for ATVs from 2000 and up, but if you have an older ATV we'd still like to hear about it. Tell us all about the make, model, year, and any improvements you've made to it and we'll take care of the rest!  Click here and lets get the ball rolling!