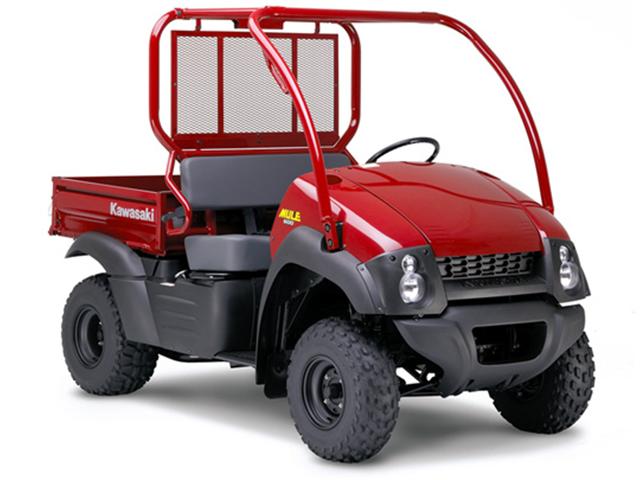 The Kawasaki MULE (Multi-Use Light Equipment) has been in production since 1988. This series is a very heavy utility task vehicle (UTV) that falls into the same category as ATVs. UTVs have the same capacities as an ATV and so much more! So, what are the capabilities of a UTV, and what makes the Kawasaki MULE the best choice?
Utility Task Vehicles
A Utility Task Vehicle (also known as the side-by-side) is a small, off-road vehicle with four-wheel drive. These vehicles have a 1 to 6 person capacity. This is because UTVs have seats that allow people to sit side by side. In addition, these vehicles have powertrains and rugged terrain abilities like an ATV.
However, unlike ATVs, there are more safety features. UTVs are made with a rollover protection structure, protecting the riders. Many of them come with hardtops, windshields, and enclosed cabs. They also apply many safety standards, such as seatbelt reminders and barriers to protect parts of the body. Although people criticize the adequacy of these protections, it is far better than many other all-terrain vehicles.
Kawasaki MULE
Since its introduction, the Kawasaki MULE has become a competitor for other brands of UTVs. This Japanese brand has a great and high-quality suspension system. Not only is it well-balanced, but the company's rubber casing provides stability for all sides of the vehicle. The MULE has a maximum payload of 1582 lbs. and towing weight of 2000 lbs. Meaning you can transport heavy items off-road with no problem! Compared to other models, the MULE also has a more efficient engine because of the design. Kawasaki develops the MULE's engine allows fuel to get to the combustion chamber easier.
Although there is customization for the MULE, its better design and production value make up for that fallback.
Sell Your MULE Today!
As you can see, the Kawasaki MULE is a great utility task vehicle. That is why people are looking for new and used models of the MULE. There a many reasons to sell your Kawasaki or other Powersports. That is the easy part. The hard part is finding a buyer. Between wishy-washy buyers and jumping through hoops, the stress can be overwhelming.
At Sell Us Your Bike, you don't need to worry about any of those problems. Our simple quote system makes it easy to sell your vehicle and get the best deal! After that, we will come to get your Powersport vehicle and give you cash! So, come to Sell Us Your Motorcycle today!