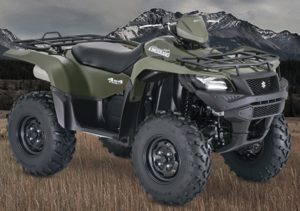 Suzuki's very first 4-wheel ATV was introduced in 1983. Today, Suzuki ATV's, especially the Suzuki KingQuad, are just about everywhere and are in high demand all across the country.
Suzuki KingQuad
An ATV that is very well-known in the Suzuki community is the 2017 Suzuki KingQuad 750AXi. This four-wheeler is designed for excellent performance on the trail or on the job. It has a fuel-injected engine which features projection-type spark plugs, a twin-spark-plug cylinder head with iridium and a refined intake and exhaust cam profile for quick starting in cold weather. Overall, this bike performs a strong, smooth ride and is a dominating group of ATV's.
Thinking about Selling Your Suzuki?
Are you looking to sell your Suzuki KingQuad or any other ATV? Sell Us Your Bike is more than happy to take it off of your hands. We purchase bikes (new or used) from all over the country and pay a great, reasonable price to our customers. If you are interested in learning more or would like to fill out our free quote, please do not hesitate to contact us.