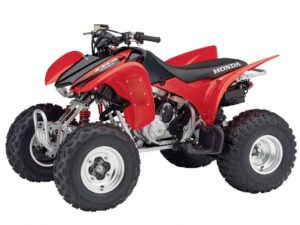 Back when the motorcycle industry was going through a tough economic crisis, Honda stepped up to the plate to take things into their own matter. Because of their bold leadership, they were (and still are) considered a world leader in the motorcycle world. Since then, Honda has designed and re-defined its model to attract a fresh new generation of riders. Introducing the Honda TRX400X has been a great addition to the ATV family.
Honda TRX400X
There are many things you could say about the Honda TRX400X. However, to fully understand it, you have to experience it for yourself. Underneath every Honda ATV is a nicely built engine. The Honda TRX400X specifically has a race-style bodywork with a SOHC, 397cc, air-cooled, dry-sump Radial Four-Valve Combustion Chamber (RFVC) engine. In addition to its triple-disc brakes, this four wheeler has a Baja-ready Pro-Link suspension that will allow you to travel for a long while. With riding the Honda TRX400X, you're in for a treat.
We Buy Honda TRX400X
Are you looking to sell your Honda ATV? We are known for buying all types of motorcycles and powersport vehicles at Sell Us Your Bike. It doesn't matter if your Honda TRX400X was made in 2014; we will gladly buy your used ATV. Please do not hesitate to fill out our free quote form today to receive a great offer for your bike.
Once we agree on the price, a check will be issued to you and we'll be on our way to come to pick up your bike. With the cash that we give you for your used Honda, you can put it towards purchasing a brand new one! What could possibly get better than that?
Contact Sell Us Your Bike and allow for us to make your day a little brighter. This is an opportunity you do not want to miss out on.