Looking for a totally rad dirt bike? Look no further than the Honda Africa Twin CRF1000L! Right now, it is the best-selling adventure bike in the United States. With its lightweight durability, throttle-by-wire versatility, and its comfortable riding stats, The Africa Twin CRF1000L is a bike like no other.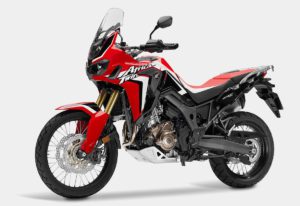 What makes this bike the best?
The Africa Twin's motor is all-new liquid-cooled 4-stroke 998cc Parallel Twin motor, an engine layout that makes the bike shorter front-to-back; this allows the front wheel to tuck in closer to the engine, reducing the wheelbase and making the bike more nimble on and off-road. This bike has a fantastic fast and fuel efficient engine that can travel 248.50 miles on a single fill up. And that's not even the most surprising part. Its speeds can reach an impressive 137 miles per hour.
The Africa Twin weighs only 232kg or 511 lbs. That makes this hardcore bike lean and easy to maneuver. This especially helps on rough terrains and on the extensive motocross tracks here in Texas. The Africa Twin CRF1000L can drive the distance, with its semi-double cradle frame, extra-long suspension, and wide windscreen, you can't get a bike any tougher. For superior performance, the Africa Twin features spoked wheels, 21-inch front wheel and 18 inch rear wheel for best off-road riding results. And with a 43-Degree Steering Lock, left and right, the Africa Twin provides immaculate maneuverability on tight trails. We know that riding is an active sport so you need to be able to move comfortably and naturally on long motocross tracks. The Africa Twin's narrow seating and peg-bar-seat triangle allow you move around to enhance handling, especially under demanding trail conditions.
Worried about Safety?
Don't be! The engineering of the Africa Twin is geared towards the safety of its riders. With a low center of gravity and a compact mass, the Africa Twin provides a secure platform for excellent handling. Containing a pair of 310mm front disc brakes and a single 256mm disc in the rear, the Africa Twin offers ample stopping power under any condition. In the front of the bike are twin four-piston brake calipers for powerful braking performance. This design keeps the brakes stiffer which increases brake feel and control.
The engineers that created the Africa Twin CRF1000L longed for future riders to be safe and comfortable. So, by creating a larger rally windscreen you are protected from the harsh wind and elements. Also, you are provided better visibility off-road. The flatter, more comfortable seat is adjustable allowing you to reach the ground easier. And it lets you perfect your riding position in accordance to the footpeg and handlebar placements. Furthermore, with its biaxial counterbalance, vibrations from the engine are balanced between the two axes. This results in a cozy, vibration-free ride.
If you are ready to sell, we are ready to buy!
At Sell Us Your Bike we are always looking to purchase your Honda Africa Twin CRF1000L models. If your bike is in good shape and you are looking to sell it,  then you are in the right place! Contact us through the form provided giving a detailed description of the condition of your bike and we will get in touch with you! We will buy your bike at a fair price and we will even come and get it! So what are you waiting for? Contact us today! We can't wait to hear from you.