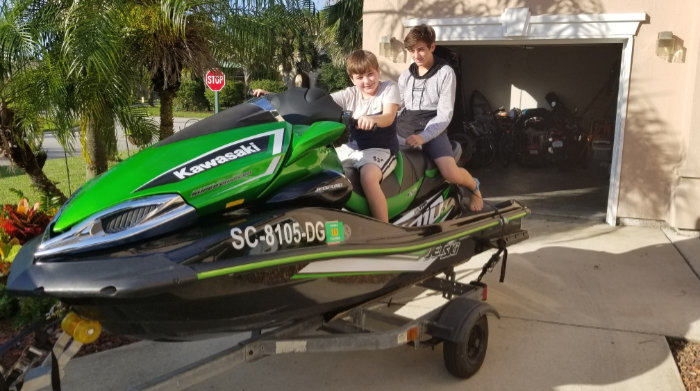 The Kawasaki Jet Ski Ultra 310 LX is one of the best watercraft around today.  Of course, Kawasaki is one of the most well-known names in the watercraft industry. Rest assured, any time you buy a Kawasaki it will have resell value.  So when you go to sell your Kawasaki Jet Ski Ultra 310 LX make sure to contact your friends at Sell Us Your Bike.
The Ultra 310 Lx
One of the most outstanding features of the Jet Ski is the handling and power. These Jet Skis can handle some of the roughest waters with ease.  Of course, along with the handling, is the pure power of the vehicle. Capable to get up to 67 mph or more, there is plenty of power in the 1498 cc, four-cylinder engine. The Ultra 310 features a heat-resistant cover material for the seats and cruise control. In addition, there is a no-wake mode as well as a nice sound system.
The roomy seats make for a great time on the water with a friend. Either racing along the water or simply cruising the lake the Kawasaki Jet Ski is a great vehicle to own. But there may come a time when you are looking to upgrade or wanting a different power sports vehicle. That is where Sell Us Your Bike is here to help.
Money For Your Jet Ski
When looking to sell your Jet Ski, there are some options you can take. First, you can try selling your self with a sign, but who has time for that? Next, you can try a site like Craigslist, but you are going to meet some really unique characters there. Save your self the trouble and sell to Sell Us Your Bike. The whole process is really simple and hassle-free.
Simply fill out the quote form right here. Next, we will contact you with a fair offer for your vehicle. Once agreed upon we will issue you a check and arrange to pick up of the watercraft, just that simple! Finally, get the money you deserve by selling to Sell Us Your Bike!
Get A Quote For Your Vehicle